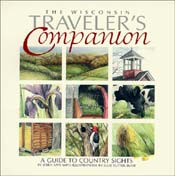 The Wisconsin Traveler's Companion : A Guide to Country Sights (June, 1997)

Purchase this book (out of print, used copies available)

Expert text will teach you. Beautiful illustrations will enchant you. This book is an absolute must for those who cherish the Wisconsin countryside.

The Wisconsin Traveler's Companion brings to life and carefully explains the sights of rural Wisconsin: its animals, plants, crops, farmsteads and rural buildings. Use it to learn the differences between Jersey and Brown Swiss dairy cattle, Finnish- and Swedish-style barns, and wild columbine and wild geranium flowers. Find yourself captivated by the charming scenes of pastoral Wisconsin so superbly illustrated in this engaging book.